Fendt 313 & 513 And Rolland Feeders – Dan Lovett From Oldford Farm, Staffordshire
Here, Dan Lovett from Oldford Farm in Staffordshire tells us all about his Fendt 313 & 513 tractors and his Rolland Rollfeed 6222 set up.

Livestock/arable farm? Acres? Location?
Here at Oldford Farm, we milk 1000 Jersey cross Fresian cows where we operate on a grass-based system. The cows peak at an average of 6,000 litres. We only grow fodder beat and grass for grazing and silage.

Have you always used Rolland Feeders and did you try any competitive brands before purchasing the Rolland Feeder?
We've had Rolland Feeders here for about 5-6 years but before then we had Richard Western Feeders. I was always looking for something more like the New Zealand feeders, and there's nothing like it on the market, the Rolland feeders are the closest thing out there to it. They are a very good machine and for what we want here at Oldford Farm it is brilliant. It's a one machine operation; we use the Fendt 313 with a loader to fill and also feed the cattle, this allows us to keep the capital down and also cut down on diesel usage which is very important to me.
What did you like best about the Rolland Feeders and how do you find the build quality?
I would say the best thing is that it does exactly what we want it to do here at the farm and more than anything it doesn't wear metal. We've been very lucky with the Rolland feeders, it's nevermissed a feeding and I'd say it does roughly 10,000 feeds a year. I would also say it is a light machine and when we need to take it into the field it doesn't mark the ground.
How have you found the process of dealing with us, your local dealer ? I'm very happy with the service we get . The team are always on the other end of the phone and always very reliable. If we do have a breakdown or a problem, they're here as soon as they can and work to sort it out.
I hear you've got a few Fendt tractors, have you always been Fendt?
No, we haven't, we did have John Deere before and also had a Valtra but we're very happy with the Fendt and wouldn't look back. We haven't had a big problem (touch wood) and when we do have a question or little issue it's sorted straight away – they offer great backup.
We've currently got the Fendt 313 and 513. The 313 is a very handy tractor fitted with a loader, it does the filling job and also the feeding which makes it a one tractor operation. Then we use the 513 for the fertiliser spreading and livestock haulage. I must add I do like the short wheelbase.

How often are you using your Fendt tractors (hours per year?)
I would say we use the Fendt 313 around 2000 hours a year doing all the feeding while we use the 513 between 2000 and 2500 hours a year between various jobs.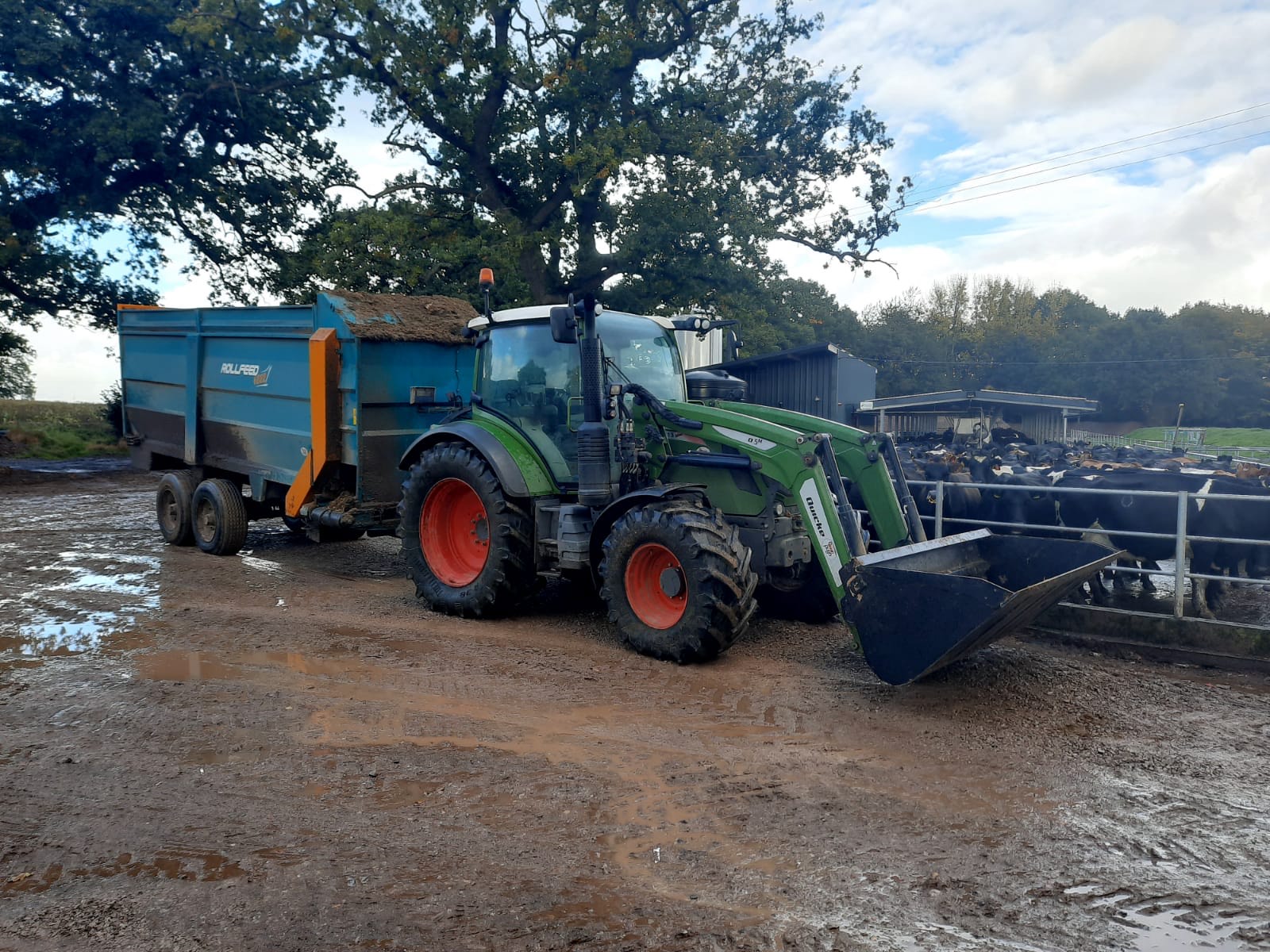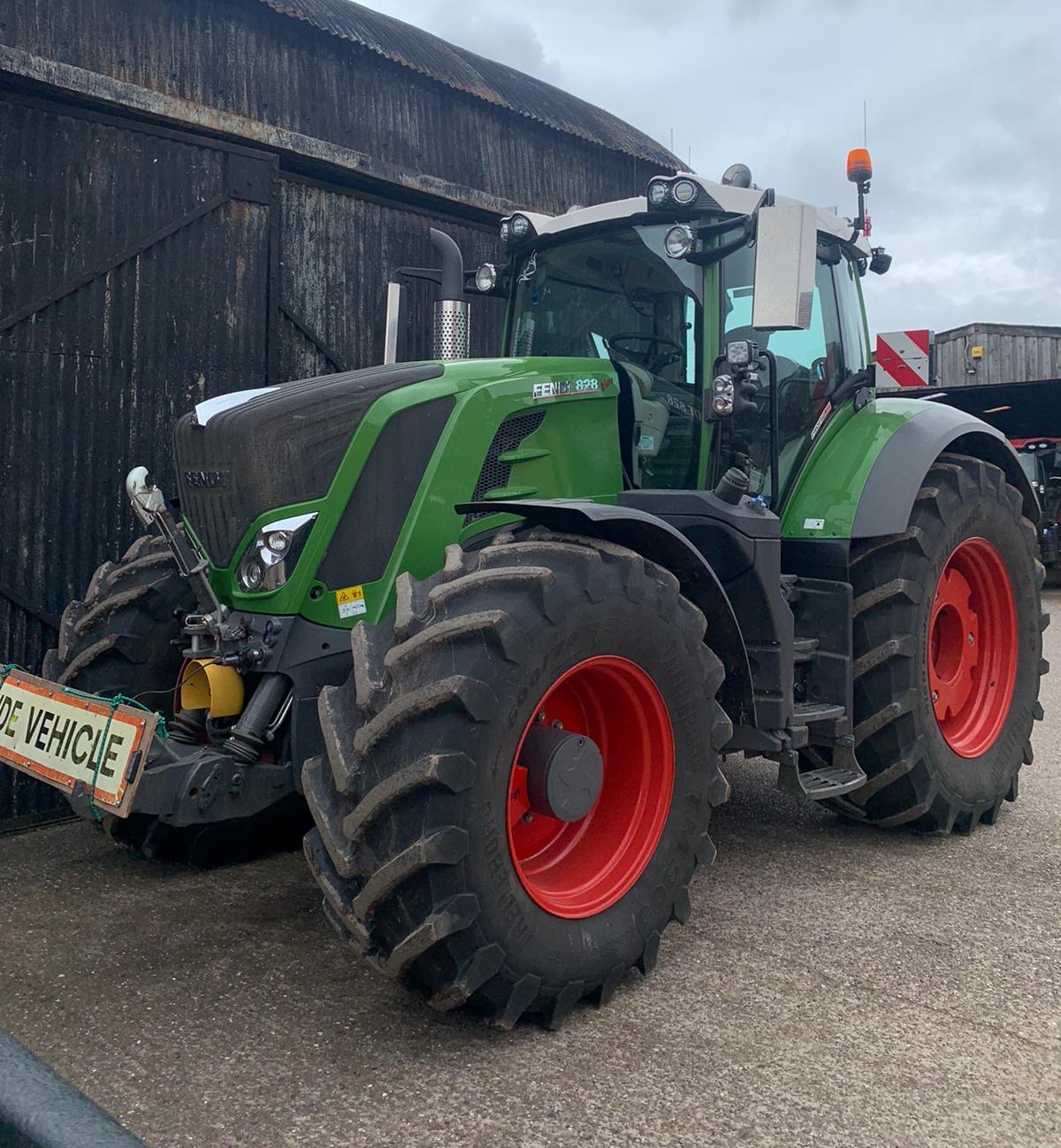 Fendt 828 - Harry Upton
While they took a break from combining, due to the weather, we took the opportunity to catch up with Harry Upton from BW Upton & Sons Agricultural Contractors to have a chat about the Fendt 828 they brought at the end of last year.
BW Upton & Sons Agricultural Contractors has always been a family run business, it originally started as a dairy farm in Ellerdine, Shropshire over 70 years ago by Harry's Great Grandad, it is now the home of their contracting business, after selling the cows in 2000. Many members of the family work within the business working on around 1000 acres of arable land.
Their Fendt 828 is primarily used for drilling and cultivation but due to the machines capability it is used for a little bit of everything from drilling to carting. This is one of the reasons the 828 appealed to Harry, the 900 series models were too big for what he was looking for compared to the horsepower in the 828 which was perfect.
Whilst talking about different aspects of the tractor Harry explained 'due to spending a lot of the day in the cab I wanted a tractor with plenty of space whilst also being comfortable to operate. The Fendt 828 offered both of these features which was one reason this model appealed to me over others'. On the topic of the features on this tractor Harry spoke about the Vario Grip he has on this machine. The Vario Grip is an optional extra but he explained that it allows him to work in fields with out getting stuck and needing assistance. The Vario Grip reduces the risks of churning up fields, being important whilst working on other people's land.
This is the first time Harry has bought a Fendt and explained that it was one the easiest deals he had ever done!
Black Edition Fendt 724 - Mike Swinnerton from Swinnerton Contrators
Swinnerton's Contracting was started by the Swinnerton family over 15 years ago after the sale of their family farm. Originally, starting out using New Holland tractors they moved towards John Deere and are now using a selection of Fendt machines alongside their John Deere, after having one on demo and falling in love with it. There most recent Fendt purchase being the Black Edition 724.
We caught up with Mike Swinnerton to chat about his new 724 to find out his views on this machine.
When asked about why he chose the 724 over the other models, Mike explained 'the three main things that swayed my decision were the comfort, control and driveability' In regard to comfort Mike explained that he could feel the quality of the seating and machine whilst driving it whether on the road or in the field making it an overall better experience. In addition to comfort, the driveability of the machine was a big factor, Mike believed that the Fendt 724 drove a lot better than other machines he had driven before.
At Swinnerton's the 724 is used for a variety of different jobs, using a variety of different implements, from mowing to drilling to ploughing. Its size and horse power, which was said to be the perfect amount at 237, allows it to be versatile and reliable when doing a multitude of different jobs in different conditions. One of the features on the 724 in relation to the versatility that Mike mentioned was the steering lock, he explained that the steering lock allowed them to undertake work that require tighter turning allowing it to get to places other tractors may not be able to first try or at all.
Talking more about the features on the 724 Mike spoke about the lift capacity of the machine. This machine has great lift capacity for its size, Mike compared it to the John Deere they currently have saying that the John Deere lift capacity is nothing compared to the Fendt's.
Finally, we spoke to Mike about his experience with us, his local dealer. He only had positive things to say about the sales team and the customer service he received with this machine as well as with the ones he has purchased in the past.
Tudor Thomas from Llangorse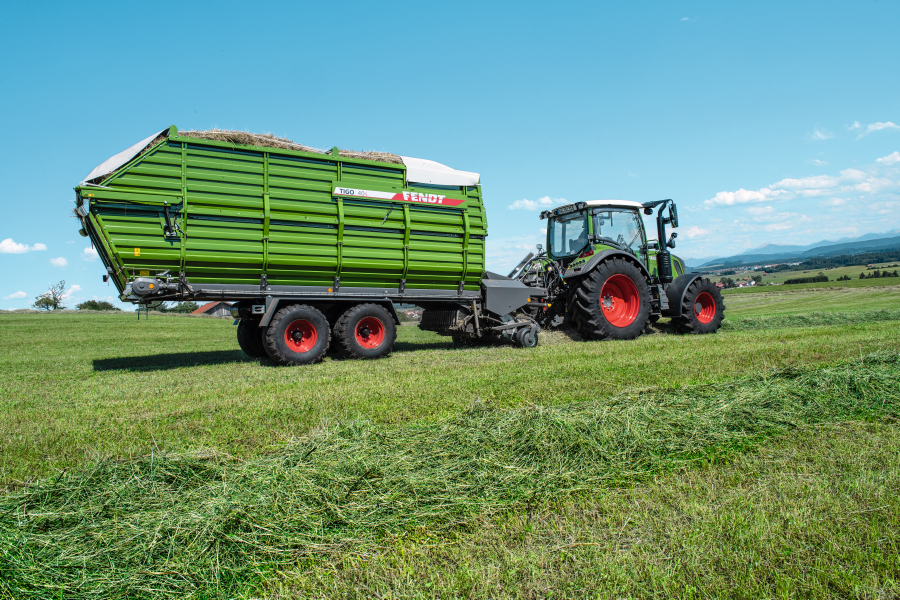 Tudor Thomas from Llangorse tells us why he has recently purchased a Fendt Tigo forage wagon.
Tell us a bit about yourself?
I'm Tudor Thomas, I live in Llangorse, near Brecon. I farm with my father on our 450 acre dairy farm, with 200 acres in an arable rotation, running 190 cows and followers and finishing all bull and beef calves. I also run a contracting business independently from the farm. I cover a range of jobs including slurry tankering, ploughing, drilling, fertiliser spreading and silaging.

This year the wagon has chopped 750 acres of silage, between the farm and contracting. I looked into wagon silage because it works well and is very labour and fuel efficient for our multicut system. It also comes in handy for zero grazing early and late into the season to reduce feed costs.

Why choose the Fendt forage wagon?
I chose the Tigo 50PR forage wagon as I liked the chop length as well as the build quality.
What were the main features that drew you to it?
The main feature is the moving bulk head, which gives it extra capacity and makes it compact and manoeuvrable whilst still giving good output. It's possible to average 65 acres a day on second cut silage depending on crops, field sizes and distance from the clamp.
What other tractors have you got?
I have a Fendt 718 which I bought second hand from May 2016. The farm also runs varying ages of Masseys purchased over the last 15 years.
Why TR Machinery ?
TR Machinery provides a good service covering our area and provides the back up to keep things running. There are also lots of spares in stock which can be posted same day to get them here quickly due to the distance from the depot.
What is your next planned purchase?
I'll probably look at changing the tractor or a drill next to get higher outputs.
Patrick from Busby farms in Stafford
Here, Patrick from Busby farms in Stafford explains why it's power and compact size makes the Fendt 211 an integral part of their strawberry harvest.
Was Fendt your first choice when it came to choosing a tractor?
Yes we have had them before and they work well for what we want them for.
How do you find the 211 tractor to drive?
It's just brilliant, a very smart tractor. Really comfy and nice to drive, I enjoy driving it in comparison to other small, compact tractors.
Do you find the size works well for the job you are doing?
It's great for us as we mostly use it on topping and spraying for the strawberries. It's easy to get around, gets into all the small places. For its power I would say it's very compact, it does not look like it's got that horsepower when you look at the size.
What is the main job you use the 211 for?
We use it mostly on the strawberry production but it is a great all round tractor. It does most things that we need really. We do about 1500 hours per year with the tractor so its used a lot.
How do you find the Vario transmission? Very smooth, it's so lovely to drive. Makes it a pleasure.
What other machines do you drive on the farm? We also have a Fendt 209 that is a little older but again it's a good tractor, similar to the 211. We like the Fendts for the fruit. They tread carefully but get the job done.
Do you feel like the power of the tractor is sufficient for your needs?
Yes definitely, it suits us well. Not too much and not too big for what we use it for.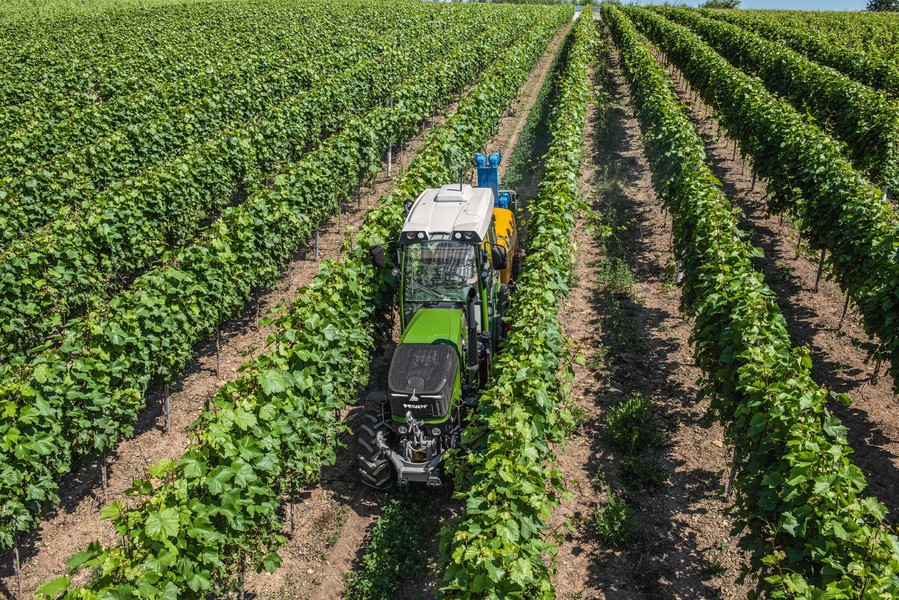 Fendt Rogator 645 Sprayer – Edwards Of Byton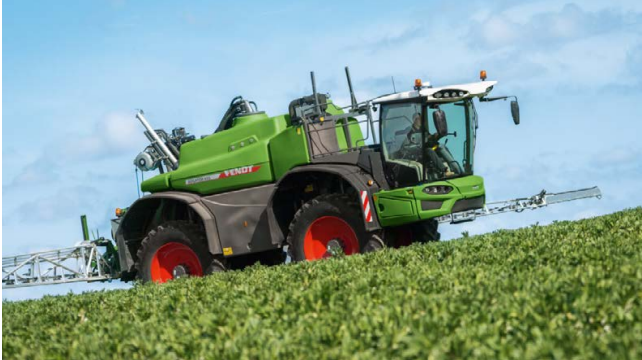 Ross from Edwards of Byton, Court House Farm tells us how they ended up purchasing a new Fendt Rogator 645 sprayer, and what they think of it.
Tell us abit about yourself and the farm (location, what crops you grow…)
We are a mixed family farm in North West Herefordshire on the Welsh border. We have breeding ewes, suckler cows, cereals and potatoes farmed over 1,200 hectares of land.
Why did you choose the Rogator? And are you happy with it's performance?
We hadn't considered a Rogator as we had ordered a new machine from our previous manufacturer, but I mentioned them in passing to Robert at the Royal Welsh Show last year and within a week a demonstrator machine was in our yard! My sprayer operator was a bit cautious at the start as the machine looked a lot bigger than our previous one but after half an hour with the demonstrator man from Fendt he was convinced it was what he wanted. The performance has been very good and a real step up in output from our previous machine.
Is your driver happy operating the Rogator?
Our driver is very pleased with the machine, it has great driver comfort and relative ease of operation. The cab is a very nice environment to work in and the controls and settings are easy to access. The suspension is very good which leads to the boom stability being excellent which is key, and leads to higher output. It is also very well balanced with the engine in the middle and the aluminium booms. It also has good road speed which is important as our ground is spread out geographically.
What do you think of the service you receive?
We have had Fendt tractors for a number of years now so knew we would receive excellent service from both Fendt you our preferred dealer.
What is your next planned purchase?
A holiday!
Adrian Marsh from Tern Hill
Adrian Marsh from Tern Hill, Market Drayton has had nearly 60 Fendts from over the past 20 years. Here he explains why he's never looked back…
"I'm 51 now and started contracting with my first Ford 7710 tractor when I was 19 and had them until a friend said I should get a Fendt 716 on demo. We tried that from Robert Pugh and never bought another blue one again.
Since then we flirted with a Valtra but didn't particularly like that. We now run three Fendt 724s, one Fendt 720 and one Fendt 828. I think in total we've had nearly 60 Fendts! We also run a small Claas Elios tractor for the horse yard.
For the main contracting work we look for something that the drivers like, quick on the road, easy to drive, ahead in terms of the technology and above all, reliable. We're serviced by the Holmes Chapel branch and the workshop team are fantastic, they manage to do most of our booked in servicing in the evening or at the weekend when the drivers are having some rest and always respond to any minor breakdown swiftly.
Getting good service and keeping my tractors going is very important to me and even if they are struggling we have always had a replacement until the service guys can catch up. Contracting and driving for a contractor are tough jobs and I think Fendt tractors are the best. Anything that helps us meet and exceed customer expectations can only be a good thing.
All in all, I am very pleased!